The 1950-1980 era for rock was quite linear in a way, each decade there would be new waves and genres that generally produced great artists and immortal albums. it wasn't always vintage, but you could say that each decade had one or more era-defining acts:
1950: Elvis, Berry
1960: Beatles, Stones, Hendrix
1970: Zeppelin, Bowie, Ramones, Pink Floyd, Black Sabbath
1980: Metallica, Springsteen, The Cure, Joy Division
However, the 21st century was about to bring some strong challenges to this trend and to the very existence of rock music as the preeminent music genre.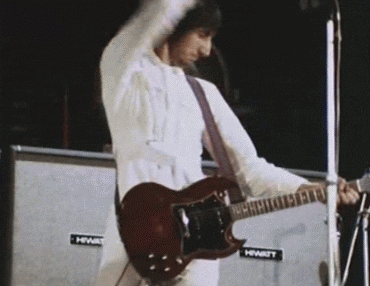 The 1990s: grunge, britpop and nu metal
Towards the end of the 1980s hair metal bands like Bon Jovi, Alice Cooper and Motley Crue were on top. However, their excess in lyrics, outfits and lifestyle was beginning to tire audiences. Meanwhile, in the underground scene in the state of Washington, a new movement called grunge was gaining momentum with bands like Soundgarden, Mudhoney and Green River performing well. Soon, rock would have another seismic shift in style and grunge was about to storm the world.
The early 1990s
It happened in 1991, Kurt Cobain's Nirvana released their widely acclaimed album Never Mind. Hit single "Smells Like Teen Spirit" became a huge success. Just like that, hair metal was practically finished. Tom Petty famously said that grunge had cut down glam metal like "wheat before sickle".
This is how the process works. Record labels want to make money by selling records, they do this by signing artists they believe will be the most popular. So when grunge became headline news, labels were scrambling to sign bands that sounded like Nirvana (similarly to what happened with The Beatles during the British Invasion). Flannel shirts, heavy on distortion and lyrics filled with themes of angst, introspection and detachment all characterised grunge music. Nirvana, Pearl Jam, Soundgarden and Alice in Chains became the 'Big Four' of grunge.
Unfortunately, it wasn't to last. Cobain killed himself in 1994, Soundgarden went on an extended hiatus in 1996 and Alice in Chains lost its lead in 1998. There were other bands carrying the torch, but after Cobain the genre lost its impetus. Britpop bands Oasis and Blur filled the void in the UK while rappers Tupac and Biggie filled it in the US.
Mid and late 1990s
After grunge faded there were a number of genres competing for the limelight. Pop punk had some great bands in the form of Green Day, Weezer and the Offspring. Industrial rock was also prominent with the likes of Marilyn Manson and Nine Inch Nails. The effects of hip hop were becoming clear on the musical spectrum as rap rock emerged from Faith No More, Rage Against the Machine and the Red Hot Chilli Peppers.
It wasn't until the end of the decade that a new genre took hold of the rock scene: nu metal. Seven string guitars, few guitar solos, loud vocals and infusing rap into the delivery of songs the main elements of this new genre of heavy metal. Korn, Limp Bizkit, Slipknot and Linkin' Park were all key bands that swept rock into the new millenium. While grunge was cut down by Cobain's suicide, nu metal would soon to be cut down by a new wave of artists seeking to revive an older sound.
I'm throwing in an honourable mention for British band Radiohead. Their 1997 classic OK Computer would bring them admiration from critics and fans. Subsequent albums saw Radiohead fuse different elements of electronic music, art rock and experimental rock. They became one of the most important bands of the last thirty years.
The 2000s: the post punk revival
Despite its huge successes in the late 90s and early 00s, nu metal had been strongly criticised by fans and artists from both within and outside the rock scene. The absence of relevant guitar solos and the delivery of the lyrics (rapping) just did not appeal to some rock fans. Once again, and for the last time until now, a group of artists would breathe new life into the genre. Or as some have said, breathed its final, dying gasp.
It sparked into life in 2001, the Strokes released their seminal debut album Is This It. Ably assisted by bands like the White Stripes, Interpol and the Hives, a new generation of rock was born. Later on in the decade a second wave of artists would soon carry the torch, most notably The Arctic Monkeys, The Killers, Kings of Leon and Franz Ferdinand among others.
Although these are some of my favourite bands, it is important that for the first time rock hadn't really innovated. In the past, from the Beatles all the way to Cobain and even Korn, these bands had brought something newish to the table. The post punk revival is exactly what it is, bands looking back and taking inspiration from post punk acts of the 1980s, like Joy Division or The Cure. This "lack" of innovation would be an ominous sign of things to come in the 2010s.
The 2010s: pop gods, Kanye's legacy and rock's "decline"
In 2017, a Nielsen report stated that for the first time, hip-hop and R&B has overtaken rock as the most-consumed music genre in the US. Since then, the same question has been asked a million times: is rock dead? For me the answer is no, but how did we get to this point to begin with?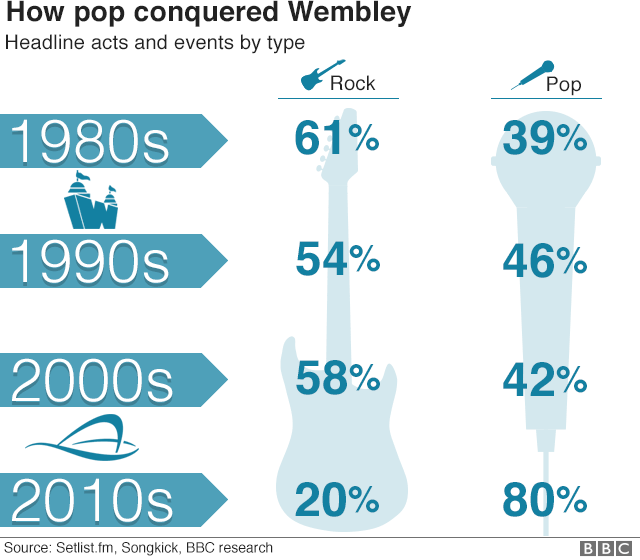 The return of the pop star and hip-hop's rise
The 2010s was the decade of the singer-songwriter megastar. After Lady Gaga's tearaway debut album in 2008, we have seen pop stars seemingly fall from the sky: Ed Sheeran, Taylor Swift, Adele, Katy Perry, Sam Smith, etc. This machine shows no signs of slowing down either, with 2019 being the breakout year for the likes of Billie Eilish, Lizzo and Rosalia.
After many decades in the making, starting with Grandmaster Flash, followed by NWA, Pac, Eminem and Jay, hip-hop hit it huge in the 2010s. How? Sales for rap music weren't doing so well in the early 2000s, but the genre was revitalised by a blast of innovation from a few new artists, most notable among them, Kanye West. Infusing pop, rock, gospel and electronic themes into his music, Kanye created a whole new sound in rap music. The genre never looked back, going from new age rap, to mumble rap and now seemingly peaking in the charts with the advent of trap music.
Rock music in the 2010s
As we've seen with rock in the past, when something gets big, artists tend to latch on to that in order to find some of that success themselves. As hip-hop and pop grew, so did rock bands who incorporated those genres into their music. So it's not surprise that the most commercially successful "rock" bands of the decade were groups like Imagine Dragons, Twenty One Pilots and Bastille. Even more critically acclaimed such as Portugal The Man or The 1975 define themselves as "genre-less". Tame Impala, once heralded as the new shining star for rock music has sadly moved more and more into pop's sphere.
In spite of all this, it's very extreme to say either that rock is dying or that the 2010s were a bad decade for rock. Older hands like the Arctic Monkeys, Jack White, Queens of the Stone Age, Foo Fighters, Radiohead and The Strokes continued to put out great music.
New bands coming through in the 2010s also released great records like the War on Drugs, Alabama Shakes, Tame Impala or the Japandroids. There was also a very overdue rise in female-rock over the last decade such as St. Vincent, Savages and Wolf Alice. Guitar-manufacturer Fender stated that 50% of new guitar owners were now female, both in the US and UK. These rockers could be the ones who breathe new life into what has traditionally been a male-dominated world.
Final thoughts
Greta van Fleet have made rock headlines for the wrong reasons in the last few years. Despite finding commercial success, the group has been strongly criticised for sounding very much like the 1970s heayweights Led Zeppelin.
This is exactly what the genre needs to stop doing. Looking to the past has brought success to a certain degree, but in order to evolve, the genre will need to innovate and experiment as it had been doing so for decades.
Is rock dying? No. Has it lost its place in the mainstream and charts? Yes. Usually the biggest breakthrough in the genre has taken place from underground scenes, so as I write this, the next Pink Floyd could be out there right now honing their skills.
Alex Turner described rock's evolution like this during a speech in 2014: That rock 'n'roll, eh? That rock'n'roll, it just won't go away. It might hibernate from time to time. But it's always waiting there, just around the corner. Ready to make its way back through the sludge and smash through the glass ceiling, looking better than ever. Yeah, that rock'n'roll, it seems like it's faded away sometimes, but it will never die.
Regardless of what happens to rock music, it's important to listen to all kinds of music and enjoy the great diversity that's out there. As I've explained over the last few thousand words, there is around seventy years of great rock music to go through while we wait for the genre to find its feet again 🙂